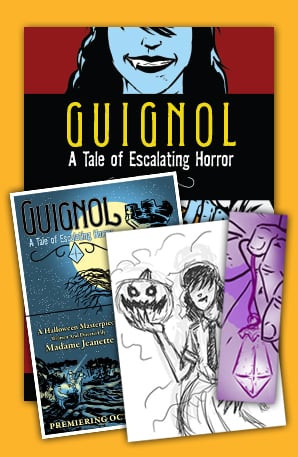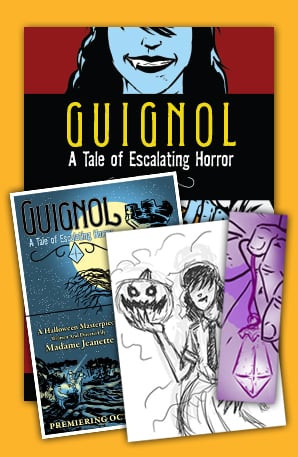 GUIGNOL – DELUXE SKETCH + POSTER BUNDLE
$29.99 / On Sale
GUIGNOL BOOK ONE DELUXE BUNDLE INCLUDES:
SIGNED 6" x 9" PAPERBACK
+ BONUS BOOKMARK
+ 5" x 8" LIMITED EDITION MINI-POSTER
+ ORIGINAL INTERIOR SKETCH BY ARTIST KEITH HOGAN*
+ Certificate of Authenticity
* Sample sketch pictured
FULL COLOR / 350 PGS
Full Retail Price: $49.99
MATURE READERS
It was supposed to be an ordinary Halloween play, but for Mae and her new friends, the horror suddenly seems all too real...
The debut novel from author Brett Schwaner featuring 50 full color illustrations by artist Keith Hogan.
RECOMMENDED FOR FANS OF Neil Gaiman, Becky Cloonan, Battle Royale.
DELUXE BUNDLE SHIPPING TO USA ONLY AT THIS TIME